Megan Quinn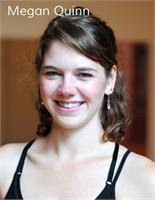 Megan Quinn began her Pilates practice in 2008 as a way to work through pain and physical limitations after a traumatic neck injury. She quickly realized that Pilates was improving her daily comfort level, her dance technique, and her confidence. As her practice grew she became excited to share these feelings of strength, awareness and freedom with others. After graduating from Temple University with a BFA in Dance, she completed her Pilates teacher training through the Drexel Pilates Training Program under Jennifer Morley. With a focus on biomechanical efficiency, breath, and inspiring confidence she enjoys sharing her love of Pilates with new and experienced practitioners. Outside of the studio, Megan is a dancer in the Philadelphia area, performing with various artists including Archedream for Humankind and Coexistdance. She also serves in administrative roles in the dance community.
Megan Quinn instructs the following:
An open level, lunchtime Pilates Mat workout. Pop in over lunch to get your body moving and blood flowing! Written up as one of the best mid-day workouts in Philly, it's guaranteed to be effective and challenging!